The Hartman Report presents:
How the NEW Economy (*NOTE* this has nothing to do with a recession) and the #1 Marketing Strategy on the Planet can revolutionize your business over the next 5 years……. and why those who read this now will have a Massive business advantage.
In this New Age of the Internet we are now enjoying 2 degrees of separation
– If you're not Joint Venturing, and doing it right you are missing out. Fortunately, you're now only minutes away from the solution …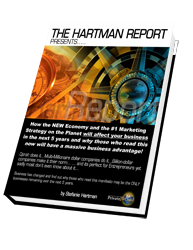 Click Here
to download your copy of
The Hartman Report
To view the PDF document, you will need to have the latest version of "Adobe Reader".
A free updated version is available from Adobe.com
Extra 'Beind the Scenes' Information:
1. Case Studies – Real life case studies on JV's in action that you can model for your business.
2. If you like, read this Report then go here to read and discuss this report with others: www.hartofsuccess.com
Get your membership to the JV Club – and find marketing partners for your products & services for $99 one time setup!!
Joint Venture Marketing allows you to Quickly Generate Leads, Increase Sales and Break into New Markets, even with No Customer List, No Money and No Risk!