The Hartman Report presents:

How the NEW Economy (*NOTE* this has nothing to do with a recession) and the #1 Marketing Strategy on the Planet can revolutionize your business over the next 5 years…….and why those who read this now will have a massive business advantage.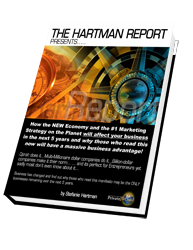 Oprah does it…
Multi-Million dollar companies like Pepsi, Universal Studios and so many more use it…
It's the bread and butter for Billionaires all around the world….and it's perfect for Entrepreneurs – yet sadly most don't even know about it or how to implement it into their business.
*Plus learn about how the timing and the culture is perfectly aligned to help YOU profit from this No List, No Money, No Risk Marketing Strategy! It is a free technique that Internet Guru's use again and again, and has been proven predictable to produce MASSIVE results!
Business has changed. Find out why those who read and execute what this manifesto contains may be the ONLY businesses remaining over the next 5 years.

Just sign up now… download your FREE copy of The Hartman Report!
In this manifesto you'll discover…
~ Why a BILLIONAIRE continues to use the same no-cost marketing (yes we said free) strategy we describe in this manifesto to predictably sell-out his products and gain a TON of new leads even though he can afford major advertising.
~ Why experts have said that this immense change in cultural attitude may be unsurpassed in its effect on humankind, perhaps more so than in any other Era in history.
~ What Thomson Financial suggests is the Most Powerful Trend in History of Business.
~ How to market your products at any time – even if you have zero customers and zero marketing budget – all at zero risk. This is a MASSIVE SOLUTION for executives, entrepreneurs and small business owners.
~ What the NEW Economy is and how it affects you.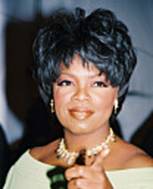 ~ How you can get past gatekeepers at companies, find people to co-create products with and how to "borrow" anything you need in business, whether it is customers, products, leads, marketing power, or even INSTANT credibility.
~ Why your Net Worth is LARGLEY determined by your Network – and how easy it is to get tapped into a network that can help you transform your business overnight.
~ What Google, Oprah, Fed Ex , Kinko's and other commercial giants including the producers of The Secret Movie all have in common and how you can do it too to build your business!
~ REAL CASE-STUDY examples!
It will introduce you to the New Economy (the new currency in business) already
unfolding around you, the next Evolution of Business (how business is
changing) and the Most Powerful Trend in the History of Business
– and how YOU as a business owner can greatly benefit from all 3
– provided you know about it and act on it.

This manifesto is over 50 pages of 100% PURE MONEYMAKING CONTENT (no
fluff and filler here) including a HOW TO Workbook Section to assist you and
your business onto a course of action immediately.
– and it's yours ABSOLUTELY FREE.

This may be one of the most important Reports you will ever read for your business – I realize that is a bold statement, but you'll learn how the landscape of business is changing forever and how it may already be affecting whether or not you may be in business for the long term. Read it and let me know if it has opened up your eyes to any degree or how you may have already begun to notice this phenomenon happening around you
Plus once you download this PDF – you will see details for :
– a Telecast Call where the author of this report will go into more detail on this subject.
– a 'Back–Door', exclusive invite to be part of an exclusive group of high-profile CEO's, Entrepreneurs & Executives who help each other succeed in business
By signing up, you'll get a free copy of The Hartman Report – the highly acclaimed manifesto that's already sending shockwaves throughout the Business Marketing world.

Business is changing and YOU NEED TO TAP into the NEW ECONOMY
– before your competition does.
The best part is its legal, it's ethical and believe it or not…it makes you feel GOOD about doing business again.
NOTE: If you're a good person you'll be excited about this report – but if you're not – you won't be pleased and you may be shocked!